Client
Our client, AstraZeneca Australia, is a global biopharmaceutical company that researches, develops, manufactures and supplies medicines in Australia. The three main focus areas include cardiovascular and metabolic disease, oncology and respiratory, inflammation and autoimmunity.
Problem
The client needed precise bar code tracking for products prior to packing. This was important as it enabled them to accurately track individual items in the event of a recall. Tracking was a crucial assurance to identify that the right product was placed in the right box. The client also needed to be able to audit the items going into the boxes. For example, if there was a problem with a particular box in a shipment of 20+ boxes of paracetamol.
Solution
Robycs Technology worked with AstraZeneca to deliver a practical solution for their needs. As an industrial automation specialist in Sydney, we are experienced at helping businesses boost productivity and reliability so they can run more efficiently.
After identifying a solution for tracking products, we created a vision system that scanned and detected bar codes of individual products before packing – in much larger quantities than ever before. We also incorporated the use of a bar code label printer to identify products inside larger shipping boxes against the company's database.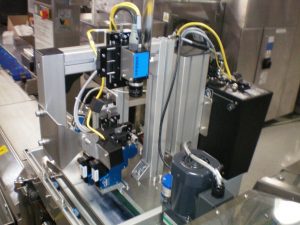 Result
Precise barcode identification and product tracking saved time and error, providing a cost-effective solution that ultimately improved overall operational efficiency. This additional level of industrial automation also helped to boost the company's data collection processes, while maintaining consistent workflows and reducing the risk of human error. Employees no longer had to rely on manual data, which freed up resources to concentrate on more productive tasks within the organisation.
As a result of these new solutions introduced by Robycs Technology, the AstraZeneca team was able to improve the quality of their processes and quality assurance while minimising errors. The system also helped to reduce overseas inventory shipment costs from Australia for long-term gain.
Our automation controls services extend to a variety of applications to build business efficiencies. Contact us today if you'd like to hear more about how we can help you.
Find out more about how other Australian manufacturers are investing in industrial automation technology to become more efficient and reduce costs.