Client
This project was undertaken for an engineering contractor on behalf of the Qantas airlines. At the time, Qantas had recently invested in a fleet of Airbus A380s, the world's largest passenger aircraft. As Australia's flagship airline operating a fleet of 126 aircraft, Qantas enjoys a strong reputation for safety, engineering, maintenance and reliability.
Problem
The new A380 aircraft in the Qantas fleet was built over two levels. Unfortunately, the airline's existing work platforms were unable to reach all areas of this much larger aircraft. A safe and effective maintenance platform was needed to reach all areas within and outside the aircraft. It was also crucial that the equipment had a hazardous area certification due to the presence of highly flammable aviation fuel.
Good and stable precision control was vital for the platform to reach varying heights. To enable this and provide greater flexibility, it was important for the motor to be independent of external power sources.
Solution
As engineering consultants that specialise in conceptualising functional engineering designs, Robycs Technology was tasked with providing electrical drawings for the maintenance platform – taking into account the client's requirements and problems.
Our engineering drawings included the integration and installation of all electrical and motorised components into the platform. It also included PLC programming (Programmable Logic Controller), supply and installation, Human Machine Interface (HMI) design and integration, and Motor Control Centre (MCC) design, construction and integration.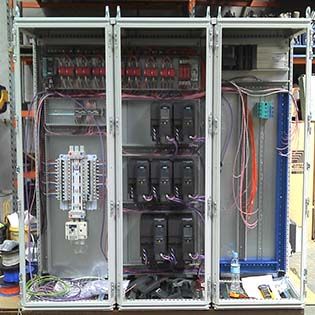 Result
As a result of the new platform designs, maintenance crew now have quicker, safer and more efficient access – leading to faster turnaround times for all areas of all aircraft and not just the A380s. The design also provided the highest possible protection against fall and ignition hazards.
If you need engineering designs or industrial electrical services that are capable of meeting the most complex demands of businesses today, contact us to find out how we can work with your company.