All electricians can professionally carry out the basics of trouble shooting, installing, rewiring and maintaining equipment. However, as the name suggests, industrial electricians work in industrial settings such as factories, manufacturing plants, car manufacturers, food processing plants, robotics, mines as well as electrical businesses. Their skills can be used across a wide variety of workplace environments.
Residential, Commercial Electrician versus Industrial Electrician
Whilst some businesses like Robycs Technology specialise in industrial electrical work, other electricians provide a range of electrical services including residential and commercial as well. According to Ben Skrokov from Safeguard Electrical, Industrial Electrician jobs are different from residential and commercial electricians, although the fundamental concepts are the same. The job requires advanced knowledge and expertise to handle the range of complex equipment used. Qualified industrial electricians undertake extensive training, as well as working for several years as an apprentice learning the trade to get the relevant certificates and qualifications. See the different types of electricians here.
Industrial sites have completely different power loads and electricity needs than residential and some commercial situations. Industrial electricians need to be highly knowledgeable with the skill to trouble shoot problems, flexible and adaptive to handle high voltage systems and other vital electrical components in factory equipment.
What's the Main Difference?
Ben says that the main difference between a residential, commercial and industrial electrician is the work environment such as commercial buildings, high-rise towers, or warehousing. These electricians are often called out to work in large and busy commercial buildings, factories and plants which can be full of equipment and machinery. They must be knowledgeable in the size of the electrical systems and which type of power, single phase, 2 phase or 3 phase, needs to be installed depending on power load specs.
Electricians need to be flexible and work with, and/ or around existing conditions.
Working as an industrial electrician involves an element of risk and danger in the workplace environment. They can range from injury and falls to electrocution caused by lack of attention and accidents involving tools and machinery in the industrial setting.
It's a physically demanding job, often requiring standing for long periods of time, lifting heavy objects, squeezing into small uncomfortable spaces and tools.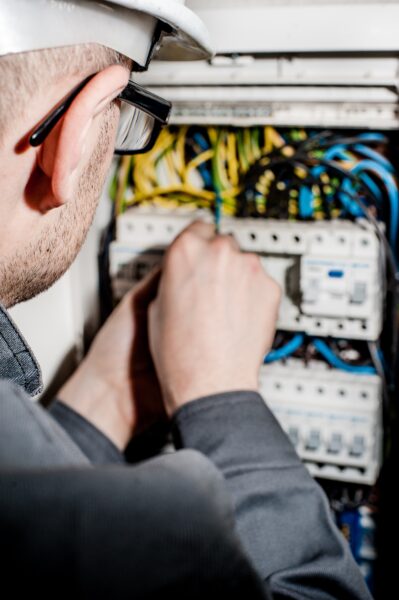 The 5 Most Common Industrial Electrician Tasks
1. Install required wiring and electrical components, upgrading the existing switchboard and systems during the construction of the new building.
2. Diagnose, fault find and repair industrial electrical systems when functional issues with wiring, components and equipment appear. An electrician may test equipment using mechanical and sensing equipment for electrical and electronic testing. They may be required to ensure compatibility and safety by testing equipment using voltmeters, ohmmeters, and amp meters.
They need to be able to diagnose malfunctioning issues in light fixtures, transformers and motors. They will reassemble and test equipment following repairs. All industrial electricians must be skilled in using analogue and digital diagnostic and test equipment.
In the workplace, they'll be required to use hand and power tools safely.
3. Be able to read and execute job plans, blue prints and technical drawings. Industrial electricians must be able to expertly read plans to understand the scope of work and what is required.
Blueprints and technical drawings are detailed plans which show the site plan, floor plan and wiring diagrams which show where the various physical connections and electrical circuits that will be installed. Blueprints are either schematics or diagrams. They show how and where electrical plant and equipment, wiring, light fittings and other industrial electrical systems are to be installed.
4. Maintain, tag and test existing or new wiring and electrical components. This prevents work place accidents occurring from electric shock or other injuries caused directly or indirectly by electricity. The most common causes of electrical injury or death are from direct or indirect contact and arcing. The electrician tests wiring, equipment, electrical appliances and machinery to make sure they are safe in the workplace.
5. Use large equipment and tools- depending on the build, industrial electricians are familiar with and use a range of tools. Some items include multimeters for voltage, current, resistance and DC voltage and current. Voltage tester for checking if electrical wiring or devices are live, Circuit finders are used for finding the circuit directory.
Laser measuring tools are increasingly popular for accuracy. Power tools may be both corded and uncorded such as power drills, lower-voltage cordless models to multipurpose tools which hammer drill, drill and can be used as a driver.
Power saws are used for accurately cutting through materials such concrete and steel for example and the type of power depends on the job at hand. Industrial electricians need to be conversant with the different types of saws. From handheld reciprocating saws, spiral saws to hole saws, portable band saws and cut-off saws
Reducing Power Consumption
Another area growing in demand given ever increasing cost of power is reducing the energy bill for operating costs. There are many options to reducing energy consumption from switching to power saving lighting, energy efficient equipment- upgrading equipment to newer models where possible, as well as implementing regular maintenance schedules.
An experienced industrial electrician can help your business reduce power costs through strategic planning and innovation, advising on equipment through to implementing variable speed drives.
Why Use An Industrial Electrician?
Industrial electrical installations range from simple installations to extremely complex contracts which can take weeks to complete. Highly experienced electricians have the right skills and tools to fault find, solve and repair problems to prevent electrical issues going undetected, which can cause equipment failure. If you're looking for an experienced Industrial Electrician, contact Robycs Technology. Timely fault-finding can save unnecessary costly expenditure; industrial electricians are trained to solve all these problems and more.